Where are we located ?

---

The project OPALE is located in both Sophia-Antipolis and Rhone-Alpes Research Centers at INRIA.
Sophia-Antipolis is on the French Riviera next to the famous town of Nice and Rhone-Alpes is next to Grenoble in the French Alps. Grenoble organized the Winter Olympic Games in 1968 and is candidate for the 2018 edition.

Grenoble is the heart of the high-tech French Silicon Valley, one of the busiest technology area in France concerning biology, medicine, nanotechnologies, nuclear, power, space, software, computational science and electronics research and industries.
The ARIANE V European launcher stages are built by Air Liquide in Grenoble. The French world class nanotechnology research center MINATEC was opened in Grenoble in 2006. The ALLIANCE semiconductor research and production facility opened by ST-Microelectronics, Freescale and NXP is located next to Grenoble in Crolles, as well as the European research center for SUN Microsystems and Schneider Electric, the ESRF European Synchrotron Research Facility, and one of the Xerox, CEA (French Nuclear Research Agency), and France Telecom R&D centres, CAPGEMINI headquarters, etc.
Over 30,000 people are employed by these academic, research and industry sectors.
Over 15.000 of them are employed by 200 public and private research labs.
Over 60,000 students, of which more than 6.000 coming from abroad, are currently enrolled in its four universities.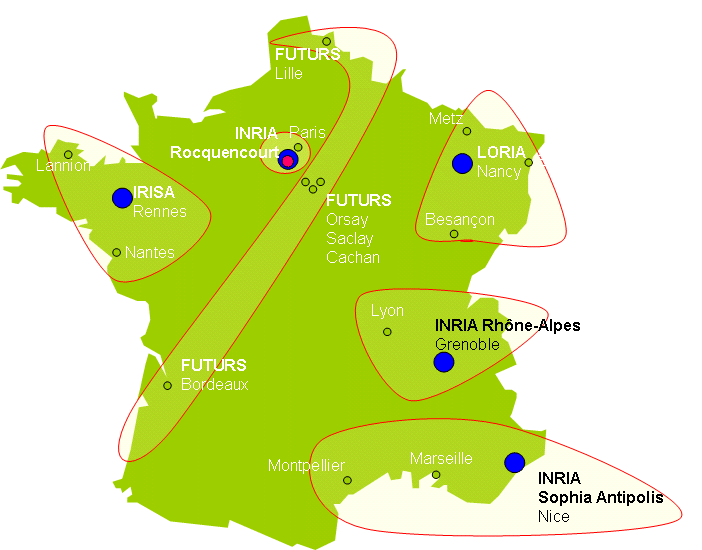 INRIA research centers in France, as of January 2007.



How to visit us ?


Grenoble is connected to Paris by the TGV fast train in 3 hours. Book your ticket here.
Airline connections to all major cities in Europe are available at Lyon Saint-Exupery airport, which is 100 km away, and at Geneva airport on the Swiss border, 150 km away.
Hourly shuttle buses are available at Lyon airport and will drive you to Grenoble in one hour.

Detailed information on how to visit us is also available here.